Rahul K. Gairola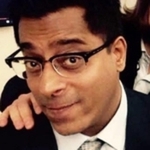 Rahul K. Gairola
Assistant Professor
rahulfhs[at]iitr.ac.in
Website
Areas of Interest
Postcolonial, Diaspora, & Migration Studies; South Asian Digital Humanities;, Comparative Ethnic American Literatures; Digital Pedagogy & Publication; New & Social Media Studies
Professional Background
| From | To | Designation | Organisation |
| --- | --- | --- | --- |
| 2015 | now | Assistant Professor of English & Comparative Literature | Dept. of Humanities & Social Sciences, Indian Institute of Technology Roorkee (IITR), India |
| 2014 | 2015 | Assistant Professor of English (term) | The City University of New York (CUNY); USA |
| 2014 | 2014 | Adjunct Professor of Gender + Women's Studies and Africana Studies | University of Maryland, Baltimore County; USA |
| 2011 | 2013 | Lecturer, Center for University Studies & Programs (CUSP) | University of Washington, Bothell; USA |
| 2012 | 2013 | Adjunct Professor of Film Studies | Seattle University; USA |
| 2009 | 2012 | Lecturer of Humanities & Sciences (Integrated Studies) | Cornish College of the Arts, Seattle, USA |
| 2010 | 2011 | Lecturer in English and American Literature | University of Washington, Seattle; USA |
| 2009 | 2010 | Lecturer in the Comparative History of Ideas (CHID) | University of Washington, Seattle; USA |
| 2001 | 2009 | Doctoral Teaching Associate | Department of English, University of Washington; USA |
| 1998 | 2000 | Graduate Teaching Associate | Department of English, Rhode Island College; USA |
Honors and Awards
| Award | Institute | Year |
| --- | --- | --- |
| Paper Merit Award | Cultural Studies Association of Australasia | 2015 |
| Postcolonial Studies Group (PSG) Honorarium | The Graduate Center, City University of New York (NYC) | 2015 |
| Travel Grant to Chicago | Modern Language Association (MLA) | 2014 |
| Travel Grant to Oxford University | University of Maryland, Baltimore County | 2014 |
| Mellon Grant in the Digital Humanities | University of Washington, Bothell | 2012 |
| Modern South Asia Workshop Grant | Yale University, USA | 2014 |
| Travel Grant to Cambridge University | Teaching & Learning Center, University of Washington, Bothell | 2012 |
| Community Arts Grant | City of Redmond, WA | 2011 |
| Travel Grant to Harvard University | American Comparative Literature Association (ACLA) | 2009 |
| Conference Grant, Comparative History of Ideas Program (CHID) | University of Washington, Seattle | 2009 |
| Research Grant | Institute for Transnational Studies, University of Washington, Seattle | 2007 |
| Research Fellowship | Simpson Center for the Humanities, University of Washington, Seattle | 2006 |
| Graduate University Grant | Humboldt University of Berlin, Germany | 2005 |
| Washington Fellowship | Pembroke College, Cambridge University, U.K. | 2003-2004 |
| Summer Merit Fellowship | The School of Criticism & Theory, Cornell University | 2002 |
| Conference Support Grant | Department of Comparative Literature, Cinema, & Media; University of Washington, Seattle | 2001 |
| PhD Research Fellowship | Department of English, University of Washington, Seattle | 2000-2001 |
| Travel Grant to Pune, India | Rhode Island College, USA | 1999 |
Educational Details
| Degree | Subject | University | Year |
| --- | --- | --- | --- |
| PhD | English Literature & Critical Theory | University of Washington, Seattle; USA | 2010 |
| PhC (MPhil) | English Literature & Critical Theory (Candidate in Philosophy Certificate) | University of Washington, Seattle; USA | 2007 |
| Summer Research | American Studies, German Language & Culture Studies | Humboldt University of Berlin, Germany | 2005 |
| Research Cluster Member | "Migration" | Centre for Research in the Arts, Social Sciences, & Humanities (CRASSH), Cambridge University; UK | 2003-2004 |
| Certificate | Critical Theory | SCT @ Cornell University; USA | 2002 |
| MA | English (Distinction) | Rhode Island College, Providence; USA | 2000 |
| Certificate | English Literature | Cambridge University (St. Catharine's College); UK | 1999 |
| BA | English and Film & Media Studies (Mason Scholars/ PAGE Program) | George Mason University, Fairfax; USA | 1998 |
Administrative Background
| From | To | Designation | Organisation | Level |
| --- | --- | --- | --- | --- |
| 2015 | now | Article Editor | "Postcolonial Text" (peer-reviewed journal) | |
| 2015 | 2016 | Staff Advisor | English Soft Skills Development Cell, IITR | |
| 2013 | 2016 | Editor | "salaam: the newsletter of the south asian literary association" | |
| 2011 | 2016 | Executive Committee Member | South Asian Literary Association (SALA) | |
Participation in seminars
| Name | Place | Sponsored By | Date |
| --- | --- | --- | --- |
| Memorialising Partition | New Delhi | Faculty of Arts, University of Delhi | April 2017 |
| Digital Humanities Winter School | Pune | Institute of Advanced Studies in English/ Center for Digital Humanities | Dec 2016 |
| Digital Humanities: Tools, Texts, Theories | Indore | Indian Institute of Technology Indore | March 2015 |
Memberships
"Postcolonial Text", Article Editor and Anonymous Reviewer
South Asian Literary Association (SALA), Editor of "salaam: the newsletter of the south asian literary association"
Modern Language Association (MLA), Member
Association of Asian American Studies (AAAS), Member
American Comparative Literature Associaton (ACLA), Member
Society for the Study of the Multi-Ethnic Literatures of the United States (MELUS), Member
PHDs Supervised
| Topic | Scholar Name | Status of PHD | Registration Year |
| --- | --- | --- | --- |
| Gender and Trauma in Kashmiri Women's Literature | Elham Fatma | O | 2016 |
| Postmodernity, Bengali Literature, and Digital Humanities Today | Sudipta Ghosh | O | 2017 |
Invitations
| Topic | Organistaion | Category | Year |
| --- | --- | --- | --- |
| ** PLEASE SEE RESUME (above) | MLA | T | |
| "Why Humanities Matters for Science, Technology, Engineering, and Mathematics (STEM) Fields." | Jaypee University of Information Technology | I | 2016 |
| "Literary and Cultural Returns to Partition." | 1947 Partition Archive + The Center for Studies in Violence, Memory, & Trauma; University of Delhi | T | |
| Google Talks: "Hide & Seek: A Conversation with Saad Khan & Rahul K. Gairola." | Google New York | T | 2014 |
| "Minor Culture" annual conference of the Cultural Studies Association of Australasia (CSAA) at the University of Melbourne, Australia. | CSAA | T | 2015 |
| "Partition as Profit: Digital Advertising and Manipulation of South Asian Trauma in the 21st Century." Tracking Notions of Progress in South Asia: From the Colonial to the Postcolonial. Wolfson College, University of Oxford, UK. June 16, 2014. | Oxford University | T | 2014 |
| "British (Di)visions: Transreligious Alliances in Anita Desai's Clear Light of Day and Khushwant Singh's Train to Pakistan." Partition Narratives and South Asian Diasporas pre-conference. University of Wisconsin, Madison. October 17-20, 2013. | University of Wisconsin, Madison | T | 2013 |
| "South Asian-izing the Digital Humanities" Panel Organizer and Chair, 2013 MLA Presidential Theme Panel. The 128th Annual MLA Convention. Boston, MA. January 3-6, 2013. | Modern Language Association | T | 2013 |
| "Between Meritocrats & Aristocrats: South Asian Diasporic Identity and the Politics of "Home" in Hanif Kureishi's Sammy and Rosie Get Laid (1987)." Art & Lives: Studies in the History & Representation of Sexualities. Christ's College, University of Cambridge, UK. July 4-7, 2012. | Cambridge University | T | 2012 |
| "Partitions of Subjectivity: Gender & Nation in Tagore's The Home and the World." Re-visiting Tagore international conference. Jawaharlal Nehru University, New Delhi, India. March 15-17, 2012. | Jawaharlal Nehru University, India | T | 2012 |
| "Engendering Cuisines: the Ideological Ingredients of Gender in Salman Rushdie's Midnight's Children." South Asian Literary Association (SALA). Los Angeles, CA. January 7-8, 2011. | South Asian Literary Association (SALA) | T | 2011 |
| "Spatializations of Diasporic Queerness in Shyam Selvadurai's Funny Boy." Global Languages, Local Cultures, ACLA Annual Conference. Harvard University, Cambridge, MA. March 26-29, 2009. | ACLA, Harvard Univeristy | T | 2009 |
| "Queering Home: Passing & Commodity Fetishism in the Fiction of Jackie Kay." Masculinity and the Other: An Interdisciplinary Conference. Balliol College, Oxford University, UK. August 29-30, 2007. | Oxford University | T | 2007 |
| "Capitalist Houses, Queer Homes: Sexuality & South Asian Diasporas in Hanif Kureishi's My Beautiful Launderette." Global States conference. University of California, Irvine. May 5-6, 2006. | University of California, Irvine | T | |
| "White Skin, Red Masks: 'Playing Indian' in Queer American Physique Pictorial Images from the 1960s." Disciplinary Bodies conference. Cornell University. Ithaca, NY. September 13-14, 2004. | Cornell University | T | 2004 |
| "Re-Worlding the Oriental: Critical Perspectives on Madonna as Geisha." Politics of Location in Literatures of the Americas Conference, MELUS-India. Indo-American Centre for International Studies, Osmania University. Hyderabad, India. January 3-5, 2002. | MELUS-India, Osmania University | T | 2002 |
| "The Kitchen as Liberatory Space: the Un-Gendering of Tita in Laura Esquivel's Like Water for Chocolate." Gendered Spaces/ Espacios De Genero Second Annual Interdisciplinary Conference. University of Huelva, Spain. May 9-11, 2001. | University of Huelva, Spain | T | 2001 |
| "Burning With Shame: Symbolisms of Fire and South Asian Patriarchy in Gayatri Spivak's 'Can the Subaltern Speak?' and Deepa Mehta's Fire." Literary Studies and Global Culture: An Interdisciplinary Conference. University of Victoria, Canada. March 16-7, 2001. | University of Victoria, Canada | T | 2001 |
| "From Material Girl to Veronica Electronica: Skating the Edge of Music in Madonna's Ray of Light, or Madonna as Postmodern Signifier." The California American Studies Association (CASA) On Edge Conference. University of California, Santa Cruz. April 30 - May 2, 1999. | University of California, Santa Cruz | T | 1999 |
| "'Always Historicize!' – The Dialectics of Narrative in Toni Morrison's Sula." The 30th Annual College English Association (CEA) Conference. Philadelphia, PA. April 1-3, 1999. | College English Association | T | 1999 |
| "A Diasporic View of Partition Fictions: Anita Desai's Clear Light of Day & Khushwant Singh's Train to Pakistan." The 12th Annual Indian Association of Commonwealth Languages and Literatures conference. University of Pune, India. January 11-13, 1999. | IACLAL, University of Pune | T | 1999 |
Courses or Conferences Organised
| Conference Name | Sponsored By | Date |
| --- | --- | --- |
| "Partition Narratives and South Asian Diasporas" | University of Wisconsin, Madison; USA | 17-10-2013 |
| "Performing South Asia at Home and Abroad" | South Asian Literary Association (SALA) Annual Conference in Seattle; USA | 05-01-2012 |
| "States of Violence: Representations of Conflict in the Film, Fiction, and Media of South Asia" | Comparative History of Ideas Program (CHID), University of Washington, Seattle; USA | 30-02-2009 |
| "Emerging Forms: Media, Narrative, & Technique in the Twenty First Century" | Simpson Center for the Humanities & the Dept. of Comp Lit, Univ of Washington, Seattle; USA | 30-11-2001 |
Special Lectures Delivered
| Title | Place | Date |
| --- | --- | --- |
| "Digital Homes: Identity and Agency in Postmillennial India." | Institute for Advanced Studies in English & The Center for Digital Humanities | 11-12-2016 |
| "Strategies for a Strong Research Proposal." | IIT Roorkee | 3-8-2016 |
| "Research and Publishing in Today's Global Academic Market." | IIT Roorkee, QIP | 16-6-2016 |
| "Digital Humanities in India: Tools, Texts, and Theory." | Indian Institute of Technology Indore | 12-3-2016 |
| "India Rising: South Asian Digital Humanities, Online Advertising Critique, and & Rural Literacy" | Indian Institute of Technology Roorkee | February 6 |
| "India Rising: South Asian Digital Humanities and Rural Literacy" | University of Maryland, Baltimore County | 8-12-2015 |
| "How to Write a Strong PhD Thesis" | HSS Department, IIT Roorkee | 5-8-2015 |
| "Migrations in Absentia" | Seattle University, USA | 4-12-2015 |
| "Migrations in Absentia: Partition, Trauma, and Digital Marketing in the 21st Century" | The Graduate Center, City University of New York | 27-3-2015 |
| "Role of Humanities & Social Sciences in the STEM Fields" | Indian Institute of Technology Roorkee | 25-7-2015 |
| "British (Di)visions: Transreligious Alliances in Anita Desai's Clear Light of Day and..." | Modern South Asia Workshop, Yale University | 6-4-2014 |
| "Between Homes: Western Disciplinary Education and Heteronormative Gender Roles in Michelle..." | Fordham University, New York City | 19-3-2013 |
| "Re-presenting Poverty: The Music of M.I.A. in Slumdog Millionaire" | Film Studies Inaugural Lecture, Seattle University | 10-10-2012 |
| "The Cooptation of Racism in the Rhetoric of 'Marriage Equality'" | Nassau Community College, State University of New York (SUNY) | 25-4-2012 |
| "Queering the Art Museum: An Interdisciplinary Panel" | Henry Art Gallery, University of Washington Seattle | 12-5-2012 |
| "Queering Home: Neoliberal Nationalism and Diasporic Genealogies in Kureishi's Sammy and Rosie" | The Graduate Center, City University of New York | 19-03-2010 |
| "Home, Identity, & Pedagogies of Belonging" | University of Massachusetts, Dartmouth | 8-03-2008 |
| "Counter-mapping America: Resistive Reading Practices in the Era of 'Terror' and Transnational Cap" | Panjab University, Chandigarh | 12-03-2004 |
National International Collaboration
| Topic | Organisation | Level |
| --- | --- | --- |
| ** PLEASE SEE RESUME (above) | IIT Roorkee | RP |
Books Authored
Digital Homes: Identity & Agency in Postmillennial India. New Delhi and London: Routledge/ Taylor & Francis Group, 2018 (under contract).
Migration from Garhwal: Gender & Home Economics in Rural North India. Nalin Singh Negi, Dinesh K. Nauriyal, and Rahul K. Gairola. Washington, DC: Lexington Books, 2017 (under contract).
Homelandings: Postcolonial Diasporas & Transatlantic Belonging. London & New York: Rowman & Littlefield International, 2016.
Revisiting India's Partition: Memory, Politics, & Culture. Amritjit Singh, Nalini Iyer, and Rahul K. Gairola, Eds. Washington, DC: Lexington Books/ New Delhi: Orient Blackswan, 2016.
Refereed Journal Papers
** PLEASE SEE RESUME (above)
Miscellaneous
How I today meditate on teaching has evolved from instruction at a number of institutions that was catalyzed by my graduate mentors many years ago at in Providence, RI. I began teaching as a Graduate Teaching Assistant at Rhode Island College at the age of 22 in Fall 1998. Almost immediately, I learned that teaching is intimately linked to research, and that research constitutively impacts effective teaching. And this link has over time re-shaped my identities as an expat living in Northern India, a multilingual American citizen of South Asian origin, my postcolonial parents' youngest son, a fraternal twin, etc. In that transformative period in New England, I learned that teaching engulfs far more than a mere intellectual transaction where knowledge is conveyed to students in a top-bottom exchange. Rather, teachers of the liberal arts are mentors in a profound philosophical journey that opens students to new thoughts and ideas while broadening the horizons of the minds of those along the way. As sharp critical reading, excellent soft, and strong writing skills empower students to challenge their boundaries, they compel themselves to critically examine values, goals, and ideals in relation to the world around them. They learn to sympathize and empathize with diverse peoples, which I feel is increasingly crucial in an increasingly intolerant, violent, and militarizing world.