Garima Agrawal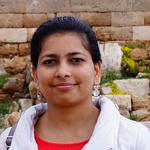 Garima Agrawal
DST INSPIRE Faculty
garimafpt[at]iitr.ac.in
+91-132-2714328
Areas of Interest
Functional polymers & colloids,polymer chemistry,nanoparticle synthesis,self-assembly,encapsulation, nanostructured materials,stimuli sensitive materials,biomaterials,drug delivery
Professional Background
| From | To | Designation | Organisation |
| --- | --- | --- | --- |
| 2015 | 2016 | Postdoctoral Researcher | Ghent University, Belgium |
Honors and Awards
| Award | Institute | Year |
| --- | --- | --- |
| DST Inspire Faculty Award | IIT Roorkee | 2016 |
| DAAD Master sandwich scholarship for IITs - Deutscher Akademischer Austausch Dienst | IIT Delhi and DWI-Leibniz Institute for Interactive Materials, Germany | 2009 |
| Council of scientific and Industrial Research Fellowship (JRF, CSIR) | IIT Delhi | 2008 |
Educational Details
| Degree | Subject | University | Year |
| --- | --- | --- | --- |
| PhD | Polymer Chemistry | DWI-Leibniz Institute for Interactive Materials, RWTH Aachen University, Germany | 2014 |
| M.Tech. | Polymer Science & Technology | Indian Institute of Technology Delhi, India | 2010 |
| M.Sc. | Chemistry | University of Rajasthan | 2008 |
Memberships
The Society for Polymer Science, India, Life Member
Materials Research Society 2014-2015, Member
Teaching Engagements
| Title | Course Code | Class Name | Semester |
| --- | --- | --- | --- |
| Polymer Product Technology | PEN-301 | B.Tech 3rd Yr. PST | Autumn |
| Technical Communication | PPN-391 | B.Tech 3rd Yr. PST | Autumn |
Books Authored
1. G. Agrawal, A. Pich, Polymer Gels as EAPs: Materials, In Electromechanically Active Polymers: A Concise Reference, F. Carpi Ed., Springer, 2016, 27-52, DOI: 10.1007/978-3- 319-31767- 0_2-1.
Refereed Journal Papers
1. K. Wiemer, K. Doermbach, I. Slabu, G. Agrawal, F. Schrader, T. Caumanns, S.D.M. Bourone, J. Mayer, J. Steitz, U. Simon, A. Pich, Hydrophobic Superparamagnetic FePt Nanoparticles in Hydrophilic Poly(N-vinylcaprolactam) Microgels: A New Multifunctional Hybrid System, J. Mater. Chem. B, 2016, DOI: 10.1039/C6TB02342H.
2. M.-N. Birkholz,† G. Agrawal,† C. Bergmann, R. Schroeder, S. J. Lechner, A. Pich, H. Fischer, Calcium Phosphate/Microgel Composites for 3D Powderbed Printing of Ceramic Materials, Biomedical Engineering/Biomedizinische Technik. 2016, 61, 267. DOI: 10.1515/bmt-2014-0141.
3. G. Agrawal, A. Uelpenich, X. Zhu, M. Moeller, A. Pich, Microgel-based Adaptive Hybrid Capsules with Tunable Shell permeability, Chem. Mater. 2014, 26, 5882.
4. K. Doermbach,† G. Agrawal,† M. Servos, S. Schipmann, S. Thies, U. Klemradt, A. Pich, Silica-Coating of Hematite Nanoparticles Using Reactive Water-Soluble Polyalkoxysiloxanes, Particle & Particle Systems Characterization 2014, 31, 365.
5. H. Wang, G. Agrawal, L. Tsarkova, X. Zhu, M. Moeller, Self-Templating Amphiphilic Polymer Precursors for Fabricating Mesostructured Silica Particles: A Water-Based Facile and Universal Method, Adv. Mater. 2013, 25, 1017. (Frontispiece)
6. G. Agrawal, M. P. Schuerings, P. V. Rijn, A. Pich, Formation of Catalytically Active Gold-Polymer Microgel Hybrids via a Controlled in-situ Reductive Process, J. Mater. Chem. A 2013, 1, 13244.

7. G. Agrawal, J. Wang, B. Bruester, X. Zhu, M. Moeller, A. Pich, Degradable Microgels Synthesized using Reactive Polyvinylalkoxysiloxanes as Crosslinkers, Soft Matter 2013, 9, 5380.
8. G. Agrawal, M. Schuerings, X. Zhu, A. Pich, Microgel/SiO2 Hybrid Colloids Prepared Using a Water Soluble Silica Precursor, Polymer 2012, 53, 1189.
† indicates equal contributions to the manuscript.