American Society of Mechanical Engineers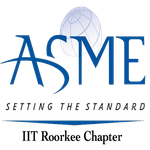 ASME IIT Roorkee Chapter, the first and leading Chapter of ASME in India, was officially registered as a society in Feb 2007 by some enthusiastic students of MIED. Since then, we have been working continuously towards providing the students in the campus a better insight into technology and exposure to practical work through various events throughout the year.
Our mission is to promote and enhance the technical competency and professional well-being of our members through quality programs and activities in mechanical as well as in electronics engineering.
NIKHIL SHARMA

ARSHIYA KHAN

FAISAL KHAN

NIKET KUMAR

RITEESH KUMAR

AVNEESH UPADHAYAY

K HARSHAVARDHAN

NEELESH SHARMA

PRATEEK KUMAR VIJAY

ASHISH ANAND

RAHUL KUMAR

SHUBHAM BIHANI

ISHAN JINDAL

ABHISHEK KR MISHRA

DEVINDER KUMAR SINGH

GOGRAJ KHADDAMember

MAYUR LILA

BHARAT SINGH RAJPUROHITMember

PALIVELA HARSHA SATYA SAI SREEMember

BOBY SINGHMember

DILEEP KUSHWAHAMember

KHUSHI VISHWAKARMAMember

KHUSHI VISHWAKARMAMember

MADHUKARMember

TANYA GOYALMember

SAAKSHI CHOUDHARYMember

SILAR MOHAMMED TANWIRMember

SWAPNIL THAKKARMember

TAMANNA RAMIMember

SOUMYAJEET JAISWALMember

PUTLURU DESHIK REDDYMember
&nbsp&nbsp---
&nbsp&nbspasmeiitr@iitr.ac.in
&nbsp&nbspWebsite